Pure nature - Natural hair colors
SANTE plant hair colors are colors to feel good! 100% vegetable hair colour, which gives a natural and lasting colour result. The hair colors are ultra-gentle, long-lasting and care for your hair while dyeing. The vegetable hair colours do not lighten the hair, but adapt to the natural hair colour.
The plant hair colours contain only carefully selected natural raw materials such as finely ground organic henna, ground herbs and fruits. Caring wheat proteins give your hair a fascinating shine. SANTE Herbal Hair Colors are mixtures of wheat protein, alginate, henna, cassia, walnut shells, indigo, coffee, beetroot and rhubarb root. The mixture and weight proportions of the ingredients are different in each color.
Your individual plant hair colour
Your initial hair color determines the individual color result. From harmonious, subtle shimmer to eye-catching color contrasts: SANTE Herbal Hair Colors make it easy for you to dye sophisticated highlights - regardless of whether your hair is in its natural color or has already been dyed with herbal hair colors.
More and more hairdressers are also turning to the natural fascination of plant-based hair colors. Observe the following tips and tricks of the hair professionals and you can be sure that you will enjoy your shiny new hair colour for a long time: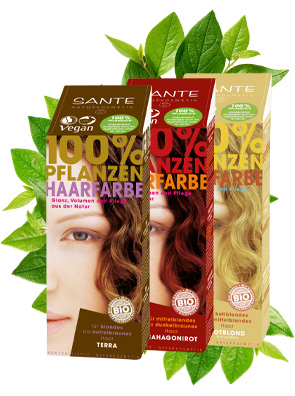 Farbpulver
The proven plant hair colours in powder form in 9 expressive shades. The plant hair colour in powder form is simply activated with hot water. The result is a creamy, non-dripping paste which is applied to the hair. Depending on the starting colour and nuance, the application time is between 15 minutes and 2 hours.
Herbal hair colouring dyes particularly gently
SANTE plant-based hair colors are the natural alternative to "conventional" hair colors on a chemical-synthetic basis. In chemical hair colors - in simple terms - natural pigments inside the hair are replaced by synthetic ones. The plant hair colour is applied like a colour glaze around the cuticle of the hair and thus colours particularly gently. Therefore, a colour change with vegetable dyes always depends on the individual natural tone. This leads to a particularly natural result and is also influenced by the application time. The longer you allow the colour to work in, the more intensive the colour tone becomes. By smoothing the cuticle layer, a beautiful shine is created on the hair.
Natural hair dyeing without chemicals
SANTE Herbal Hair Color does not contain peroxides, ammonia or other chemical components such as synthetic dyes, fragrances and preservatives. The plant ingredients such as organic henna, walnut shells or indigo provide additional care for the hair. All hair colours are NATRUE certified and thus stand for genuine natural cosmetics. Feel the difference of long-lasting, multi-faceted colour with the extra volume and care.
Active ingredients for strong and shiny hair